LEON & LULU WINS NATIONAL RETAILER AWARD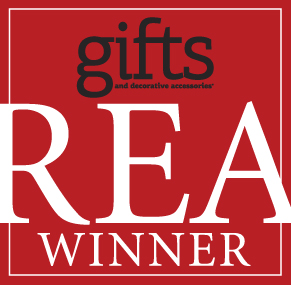 Gifts and Decorative Accessories Magazine Announces Leon & Lulu Winner of the
Retailer Excellence Award
August 31, 2013 (Clawson, MI) – Leon & Lulu won the Retailer Excellence Award for Store Events from Gifts and Decorative Accessories magazine. The store, co-owned by wife and husband team Mary Liz Curtin and Stephen Scannell, was honored for its Books & Authors event, which it hosts each fall to benefit the Detroit Free Press Gift of Reading program.
"We are just delighted to be recognized again by GDA," says Mary Liz Curtin, co-owner of Leon & Lulu. "Receiving a Retailer Excellence Award is a true honor and we could not be happier. The Books & Authors event is one of our favorite events because it provides local authors and their readers the opportunity to interact. Even better, it benefits the Gift of Reading program, which puts a new book in the hands of every child third grade and under in the city of Detroit."she explains.
Winners were announced last week at a gala affair for the publication's 62nd annual event. The 2013 Retailer Excellence Awards honors the most innovative and influential in the industry. Gifts and Decorative Accessories magazine selected Leon & Lulu from hundreds of applicants across the country, which are judged for awards in categories including Store Design, Marketing, and Visual Merchandising.
The event that inspired it all, the fifth-annual Books & Authors event, will take place from 11 a.m. to 5 p.m. Sunday, October 27 at Leon & Lulu. An expected 50 authors—including Fox 2's Alan Lee who recently published Sandstorm—will be there shaking hands with readers, finding new fans and selling their books. There is no fee to exhibit or attend, and the event will again benefit for Detroit Free Press Gift of Reading program. Please visit www.leonandlulu.com/booksfor submission guidelines.
To learn more about the Detroit Free Press Gift of Reading program, which has put more than 675,000 books into the hands of Michigan children to help them discover the joy of reading, please visit www.dfpcharities.org.
The Retailer Excellence Award will be proudly displayed at Leon & Lulu, along with other shiny awards recently collected, including the Dallas Market Center's The Next Big Give, which recognizes specialty retailers that make a difference in their communities; Best Furniture Store and Best Unique Shop won in the Daily Tribune's 2013 readers poll; Best Place to Find Home Décor Real Detroit Weekly's 2013 Best of Detroit contest; Best Independent Store Owner won in Hour Detroit magazine's Best of Detroit readers poll; and Best Gift Shop named in the online AList contest.
About Leon &Lulu: A destination lifestyle store featuring an eclectic mix of upscale furniture, unforgettable gifts, and accessories in an environment unlike any other. Located in the historic Ambassador Roller Rink in Clawson, Michigan, Leon & Lulu offers 15,000-square feet of fabulous shopping, with a new 7,800-square feet expansion into the neighboring Clawson Theatre slated to open this spring. Locally owned and family run, Leon & Lulu prides itself in providing a fun, welcoming atmosphere, serving hot coffee, cookies and popcorn – often via roller skates – to visiting patrons. For more information please visit www.leonandlulu.com.