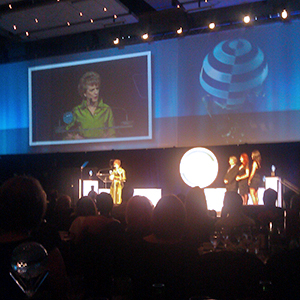 Mary Liz Curtin, Leon & Lulu store owner and professional speaker, received the ICON HONOR for individual career accomplishment. More than 900 people attended the third annual ICON HONORS event at the Marriott Marquis in Atlanta to commend the best in Innovation, Contribution and Achievement, across all industry segments and product categories.
If "America's Got Talent" ever staged a competition for gifted retailers, Mary Liz Curtin would be the hands-down winner. A life literally lived in retail, powered by fearless determination and a wicked shopping gene, have propelled Curtin's career achievements into a successful orbit giving Clawson, MI, and thousands of happy customers a shopping experience as unique as her roller-rink store, Leon & Lulu. Expecting the unexpected is her trademark. And her career is a beautiful illustration of how doing things very differently makes all the difference.
~Home Accents Today
ABOUT THE ICON HONORS
A distinguished panel of judges drawn from the retail, fashion, design and education communities review the field of submissions and determine award recipients in the inaugural ICON Honors, exclusively produced by AmericasMart Atlanta in partnership with the Gift & Home Trade Association (GHTA) and national media sponsor HFN. Created exclusively by AmericasMart Atlanta in partnership with GHTA and HFN, ICON Honors is the first international program fully embracing the gift and home categories in an independent recognition of exemplary achievement across the industry for product manufacturing, product sales representative businesses and retailing.
ABOUT MARY LIZ CURTIN
Mary Liz Curtin is passionate about independent retail. Her knowledge of all aspects of the gift, craft and home industries gives her a unique point of view, encompassing the needs of retailers, vendors and sales representatives. She is also a heck of a retail shopper and loves to crawl malls, discover downtowns and walk through the Web to find ideas and inspirations for her presentations.
With over 35 years of hands-on experience in the gift and home industries, Mary Liz is an internationally acknowledged expert in independent retail and has advised numerous manufacturers on marketing, sales and management issues with her unique brand of Sales and Marketing Therapy.
ABOUT LEON & LULU
Leon & Lulu is serious about good design, fabulous service and great pricing, but it has a sense of humor about everything else. Located in the historic Ambassador Roller Rink and owned by veteran merchants Mary Liz Curtin and Stephen Scannell, the 15,000 square foot store is a one-of-a-kind, eclectic mix of upscale furniture, unforgettable fits, and accessories. In addition to the fabulous merchandise and friendly, fun atmosphere, the store also serves as a unique event space. Of 64 events held at the store last year, 51 benefitted local charities, including The American Red Cross, Cass Community Social Services, Karmanos Cancer Institute, American Diabetes Association, Gift for Life and Design Industries Foundation Fighting AIDS (DIFFA).